Bathroom Trash Can Ideas to Decorate Different types of Bathroom themes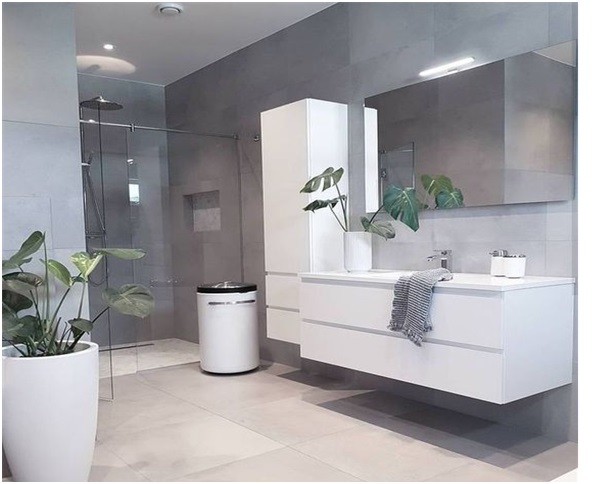 Entering a bathroom should feel relaxing and there must be not a single accessory which makes you puke or ruin your sense of hygiene. A dirty and ugly basket in the bathroom leaves worst impression if it fails to hide the used tissues, soap wrappers or broken hair.  Budget does not matter, the choice of a buyer must be good enough so that he or she can buy matching or stylish trash can which complement the bathroom interior and theme color. You see most of the bathroom trash cans reviews from different experts but here we are going to tell you different types to functional, plain, modern and decorative trash can ideas you can match and contrast withthe washroom or toile of your home, office or spa.
Stainless Steel Bathroom Trash Can With Lids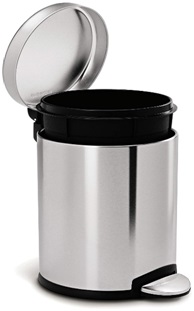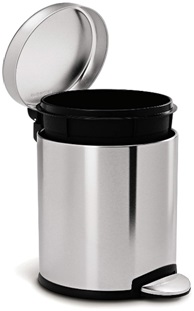 Stainless Steel Trash cans are most long lasting and widely used in bathrooms. Stainless steel waste baskets come with lid and pedal so you do not need to touch the basket while using it. These trash cans go with any bathroom theme. These are most practical and stylish trash cans as well as easy to wash and clean.
Simple Plastic Trash cans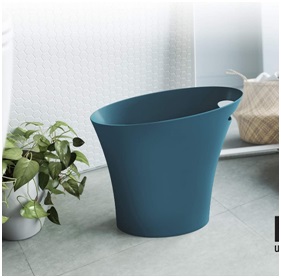 Plastic trash are good to use if you have two bathrooms in your house. Simple plastic trash can are functional and economical to use in toilet area. You can find some fancy designs in plastic waste baskets as well. There is another good thing about plastic trash cans that you will find variety of colors which you can match with the tiles of your bathroom.
Printed Trash Cans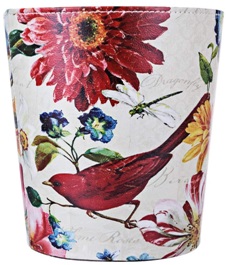 A stainless steel or plastic trash bin does not suit a bathroom having floral or forest wallpaper. There are some retro prints and floral design baskets which may perfectly match with the theme and color of your bathroom.
Vintage Style Bathroom Trash Can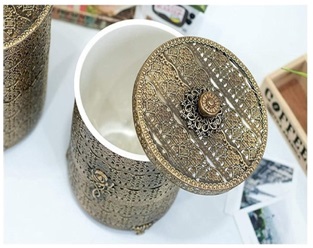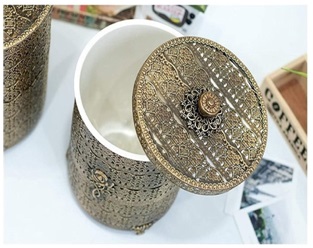 Most vintage trash cans come in metallic or resin material having rich carving or embossed design or motifs that complement the contemporary theme of the bathroom of the spa or a farmhouse. There are many classy colors like golden, silver, grey you can find and match or contrast the vintage style interior and décor of bathroom.
Bathroom Trash cans with Matching Accessories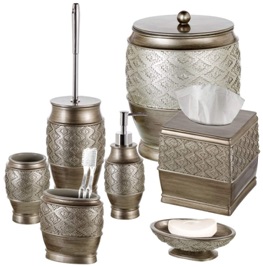 For a luxurious spa or farm house bathrooma trash can with matching accessories is perfect. You can find acrylic, resins, glass and bamboo matching accessories with trash bin for a luxurious bathroom.
Wooden and Bamboo Trash cans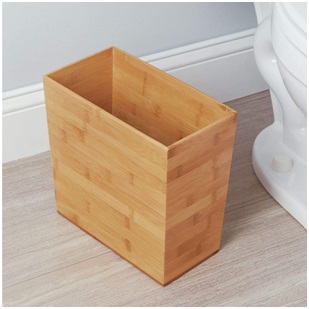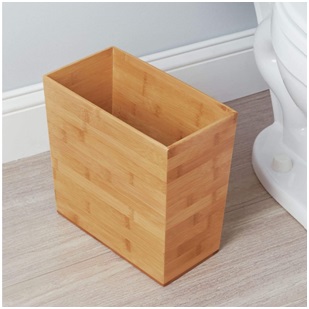 Many people love the bamboo or wooden interior for the bathroom. The natural color of wood looks fresh and never go out of style. Wooden trash cans are perfect for those bathrooms.
Resins Trash cans for bathroom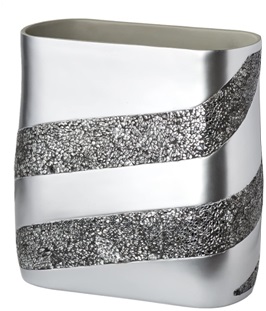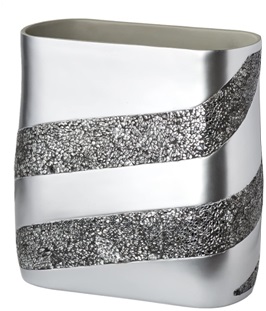 Whether it is a girl's washroom or newly wedded couple attached bath, an embellished and decorative trash cans made of resin look awesome.
Metallic Trash Cans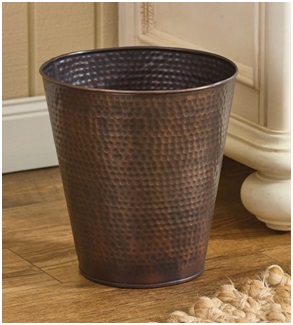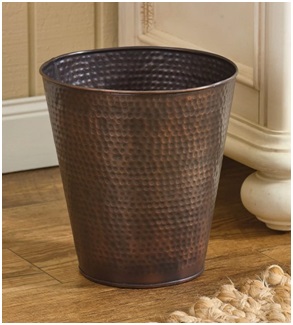 It does not matter what color of your bathroom interior is. A touch of brass or metal can change the overlook look of bathroom Trash cans made of brass or metal with hammered or embossed design add charm to the decoration of bathroom.
Modern Trash Cans with odor control technology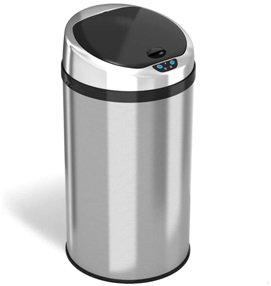 If you are a tech geek and want smart gadgets in your house then why not having a touch less trash can with odor control technology. These are practical and mostly come in stainless material with plastic inner basket. You can clean and maintain it easily.
White Trash Bins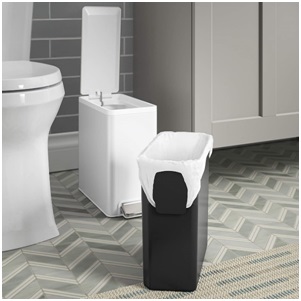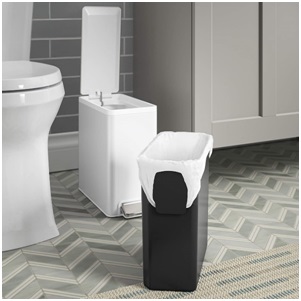 Most professional spa use white color of bathrooms. Modern bathroom in houses also having white interior are in fashion now. White tiles, white tub and a touch of natural plants complete the look of professional spas. Matching white waste basket is the essential to match the theme of the bathroom. There are many material and designs in white color trashcans like metallic, plastic, resins etc.
Black Trash Cans.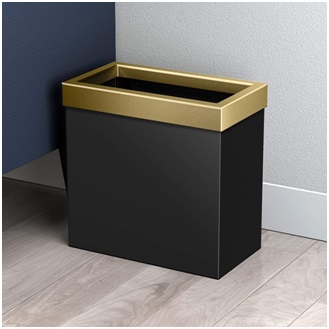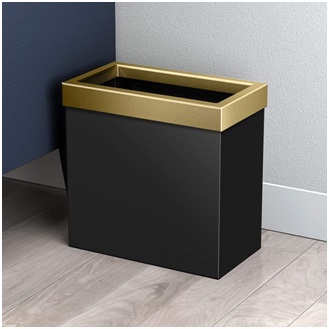 Black is very bold color for bathrooms. Black looks mysterious and classy for bathroom theme. Especially if you have a powder room then simple black waste bin adds beauty.
Cute Trash cans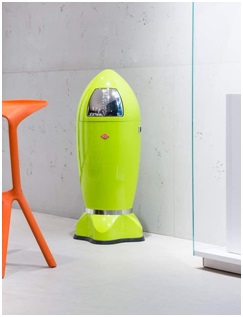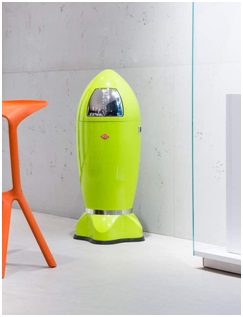 Trash cans with cartoon characters or funky style are designed to keep in kids' bathroom. These trash cans are lightweight enough so that kids can lift and empty them easily.
Space saving Trash Cans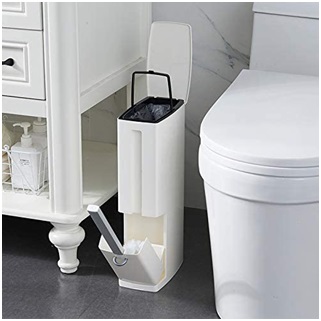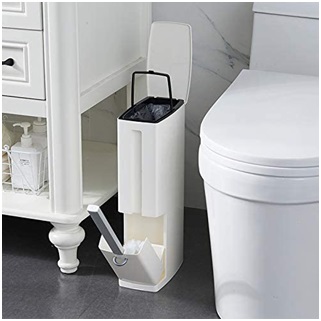 Small apartments usually have small bathrooms. Slim and space saving trash cans designs are available for tiny washrooms.