Beautiful Headboard For Bedroom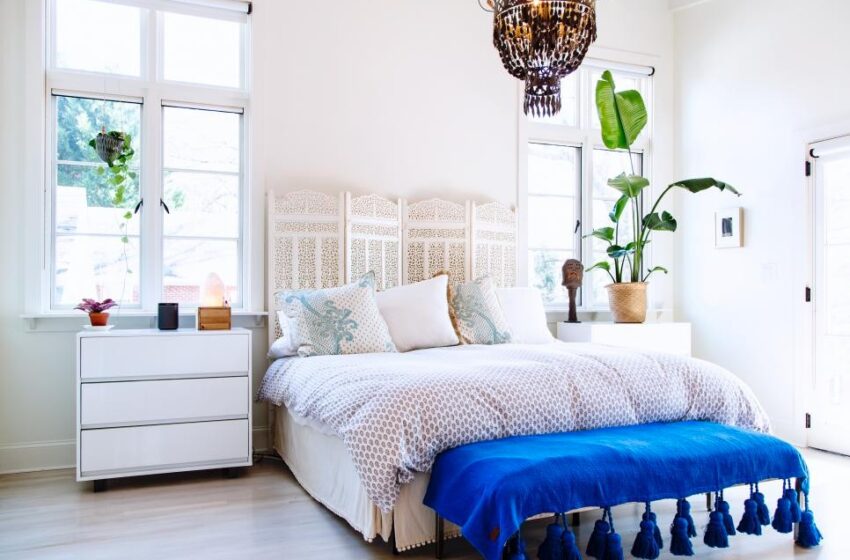 Headboards have long been a part of beds. It was first used in Egypt in royal bedrooms as a luxurious element. However, it was put to practical use like keeping out cold from the walls in other parts. Combined with modern elements, the headboard becomes an essential part of the bedroom.
Although many people consider skipping a headboard, you should always opt for it. This is because they prove to be useful in various conditions. To begin with, you can keep out the cold from the walls. Further, it provides the much-needed back support required when you are sitting. You can keep a pillow against the headboard and lean comfortably. The headboard will also keep the walls from getting stained. Given the number of options available in terms of colours, designs, styles, and materials, you can easily find a modern headboard design that matches your home decor and personality. If you are not sure which headboard you should choose, here are a few options you can consider:
01 of 04 Wooden headboard 
Wood is one of the most common materials used for modern headboard designs. This type of headboard is preferred by homeowners because wood adds a touch of elegance and luxury to any home interiors. It has a timeless appeal and can be used in all types of home designs. Also, this material is very sturdy and durable. If you are looking for a long-lasting option, a wooden headboard is one of the best options available. Moreover, you get innumerous choices while choosing a wooden headboard design. From the design, colour to texture, you can give your wooden headboard any look you want. However, you must be careful while determining these factors and ensure that they complement the overall appearance of the room. Plywood is most commonly used for making wooden headboards. Not only does it allow you to be as creative as you want but also requires very little maintenance. Hence, people who do not have sufficient time to keep up with maintenance requirements can opt for plywood.
02 of 04 Leather headboard 
If you want to opt for a statement modern headboard design for your bedroom, you can never go wrong with a leather headboard. A leather headboard gives your room a posh and sophisticated feel. You can use it to make a very bold statement. While original leather features beautiful warm colours, faux leather has a vibrant palette. Before deciding what type of leather you want for your bedroom headboard, you must determine your budget. Faux leather is more budget-friendly than original leather. Although leather is a very durable and easy to maintain option, it is better to avoid a leather headboard in very humid places. Over time, mould and bacteria can grow on it. 
Leather headboards look perfect in bedrooms with English decor. You can easily find them in many attractive colours. Make sure you use leather headboards in well-ventilated bedrooms. 
03 of 04 Cushioned headboard 
You can never go wrong with a cushioned headboard. When comfort is one of your top priorities, you should definitely consider opting for a cushioned headboard. Resting your back on the soft and comfortable backrest certainly makes you feel cosier on your bed. Besides being very comfortable, a cushioned headboard can be customised according to your preferences and is very versatile. You can make the padding as thick or thin as you like. This will help to ensure you get exactly what you want. Further, you can also opt for options that complement the look of your mattress or room to enhance the appeal of the overall space. The softness of the headboard also ensures that your head stays protected even if you hit it against the headboard while lying down. You can either opt for a wall-mounted headboard or get designed a regular wooden headboard. 
04 of 04 Wall headboard 
Want to give your headboard design a modern feel? Opt for wall headboards instead of regular headboards. These headboards have received immense popularity in contemporary home design because of their minimalist yet elegant look. Experts suggest opting for wall headboards in bedrooms that appear open and spacious, and are well-ventilated. Depending on your preferences, you can make the padded wall headboards go up as much as you want. Hence, this type of headboard design will add more comfort and visual interest to the space. By using a wall headboard, you can create a private zone that makes you feel more welcomed. Further, you can give the padded wall headboard any design you want depending on your choice. There are endless choices available in the market including leather padding, textured cloth padding, different tufting patterns, etc. You can choose any colour you want as well.