How is Composite Decking Made?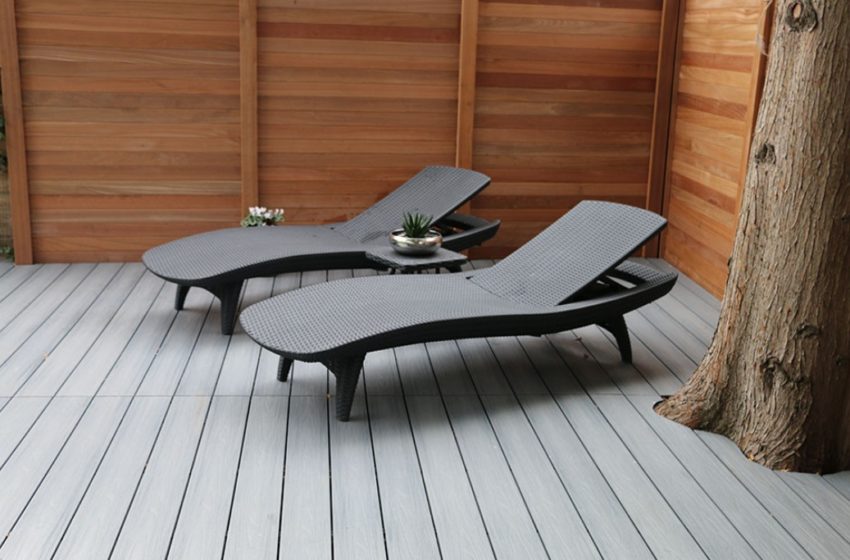 Composite decking has come a long way since it first appeared on the market. With advances in the manufacturing process, it looks more natural than ever. For this reason and others, many homeowners are choosing composite decking materials over all-wood decks.
This type of decking material uses a mix of wood and plastic. Wood fibers, chips, or even saw dust are combined with plastic and shaped into boards, either by extrusion or compression.
The boards are shaped in such a way that they still have the appearance of natural wood grain. This process has been refined over the years, such that modern composite decking looks much more authentic than older products.
What are the Benefits Compared to Wood?
Composite decking has several benefits that make it a better choice, in many people's opinion, than regular wood. Here are a few characteristics that make it popular:
Composite decking can be made from recycled or repurposed wood and plastic, making it an eco-friendly option for construction.
It is far less likely to incur moisture-related damage such as warping, rotting, and mildew.
Composite decking is impermeable to damage caused by insects that tend to bore into wood, such as termites.
It holds its color much longer than wood because the plastic itself can be dyed in the manufacturing process.
Unlike true wood, composite decking can be bent to create curved boards for special installation projects.
The plastic prevents the material from cracking or splintering.
What Else Should I Consider?
One thing that gives some people pause is that composite decking does tend to be a bit more expensive than all-wood boards. However, the long-term costs may be less when you consider the maintenance required to keep wood decking clean and stained.
Composite decking will never need to be power-washed, sanded, or refinished. It only needs occasional washing just like an indoor floor, and spills should be wiped up immediately to avoid staining the plastic.
Traditionally, composite boards absorbed more heat than all-wood material, which created a bit of a hazard for bare feet in the summertime. However, many modern manufacturers offer composite decking options that are 35% cooler than their wood counterparts. This, along with its resistance to moisture, make it a great choice for pool decks.
Composite decking boards are a little bit heavier than all-wood boards, but they are still considered easy to work with. If you're planning a DIY job, you may want to consult with a professional to be sure you pick a material that will work well for your plans.
Learn more about the best composite decking for full sun.
Difference Between Capped and Uncapped Decking?
Most modern composite decking is capped, making it completely impermeable to stains and moisture. Basically this means that the surface is completely coated in plastic, which creates a permanent seal. Most composite boards are embossed with randomized grain patterns to produce the look and feel of regular wood, which prevents it from looking "plastic-y."
Some composite decking material is not capped on all sides. That is, the unexposed ends of the boards may not be sealed. Based on the nature of your construction project, you should consider whether you need materials that are partially or fully capped. This will partially depend on whether the uncapped ends will receive extensive exposure to moisture and sunlight.