Practical guide to choosing patio furniture in 2021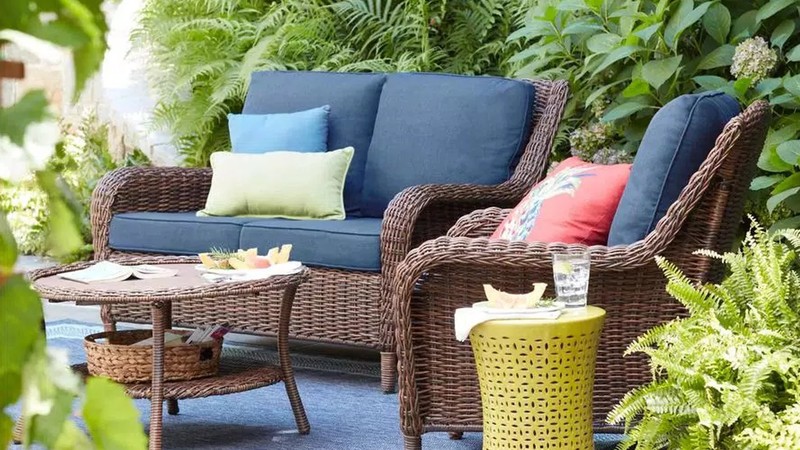 The list of options in materials and designs of patio furniture is very wide, but the important thing is that the furniture and its accessories are resistant to inclement weather and should they complement your lifestyle. A key element is that you know how to choose durable, weather-resistant materials since this furniture will have to pass the test of the specific meteorological conditions of your region. The most common materials to withstand any climate are metal, wood, treated wicker and plastic.
Metal patio furniture
Aluminum furniture has a protective layer that does not allow corrosion. It is one of the most popular options for its resistance to external elements and its lightness and durability. Besides being durable, wrought iron is highly weather resistant and has a classic look. You can paint it in the color that best matches your garden. Being very heavy, it is the perfect choice if you live in windy climates. Both aluminum and wrought iron are good materials because they are resistant to corrosion and will last for many years with minimal care.
Wooden patio furniture
This material is optimal if you want to give your outdoor spaces a more rustic and traditional air. The most advisable type of wood is mahogany since (thanks to the oils it naturally contains) it is resistant to water. Therefore, it is a good option if you live in a humid and cold climate. It is also one of the hardest and most resistant woods, and therefore a great long-term investment. It requires minimal care to maintain its beautiful reddish-brown color, and like all woods, it benefits from the application of oil once or twice a year to preserve its beauty.
Wicker
Wicker is very light and will give your outdoor spaces an informal and homely feel. Traditionally wicker patio furniture was made of materials such as rattan, bamboo or cane. Nowadays, they are made of synthetic materials to guarantee better resistance to the weather and the elements and to extend their durability. One of the most popular and durable synthetic materials is so-called PE rattan. Furniture made of this material is resistant to sun, rain, sea, salt and humidity. In patio furniture stores you will also find other varieties of synthetic rattan, such as the so-called PVC rattan.
Plastics or resins
Patio furniture made of these materials is very practical. Besides being inexpensive and lightweight, they can be stacked. Keep in mind that the cheaper versions are less durable and will sometimes crack and discolor within a season or two. Our advice is that you choose plastic materials made from high-density polyethylene and that is UV stabilized. This ensures greater protection against cracking, sun damage, moisture, and mold. Depending on your style, you can choose them in a wide variety of colors and designs.
Textiles patio furniture
When choosing cushions for your outdoor spaces, make sure they are made of all-weather fabrics. These fabrics are much more durable than traditional fabrics. When choosing a parasol, the fabric should be light, but treated to filter the sun's ultraviolet rays and prevent fading and mold.