Surprising Ideas for Decorating Your Outdoor Space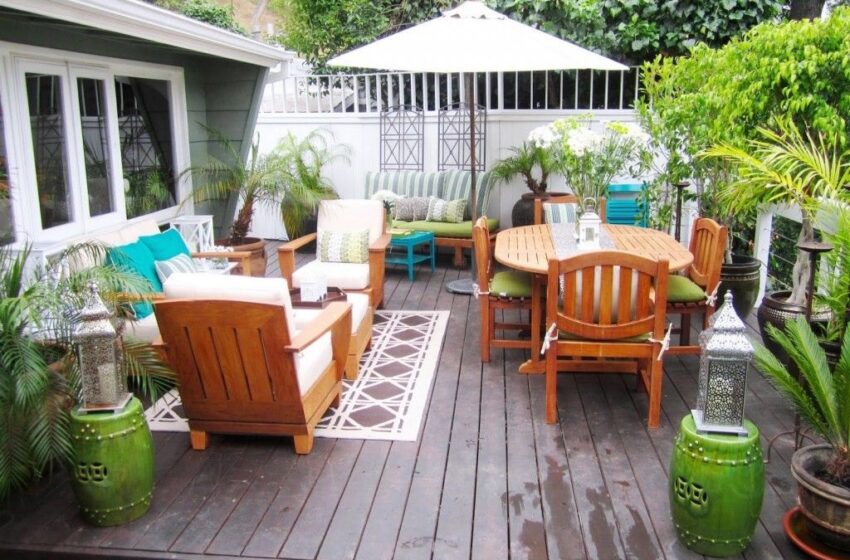 Simple, affordable, and unique ways to take your backyard from abandoned lot to Garden of Eden
By Owen Clarke
Many of us have our hands so full decorating the interior of our homes that we barely give any thought to decorating outside, besides putting up a few plastic chairs and a table. The truth is though, decorating your outdoor space in a fresh and exciting way doesn't have to be hard. There's simply no better place to host guests on a nice night than outside on a beautiful patio or porch.
Read on for eight unique ways you can spice up your outdoor living setup!
Reuse Vintage Cans and Tins
Instead of a traditional clay pot, you can put your plants out in vintage aluminum buckets and cans, like old-school potato chip tins, for example. Search sites like Etsy and eBay to find some great ideas, then pop in your favorite flowers and greenery to brighten up your porch or patio with a bit of vintage glamour.
Spark a Fire
Fire pits are an excellent way to bring warmth and a homey feel into any outdoor space. Whether you're hanging out with friends and family or having a couples date night, fires provide the perfect space for everyone to gather around and come together. Nothing really compares to the warm, mellow glow of a fire.
One of the best ways to bring fire into your outdoor space is a fire pit table. These unique pieces of furniture have the functionality of a table with the ambiance, lighting, and warmth of a fire pit. You can put drinks, appetizers, and desserts on these tables while a small fire pit burns in the center.
Many fire pit tables are quite expensive (though they're worth the investment). If you're short on cash, however, check out this DIY fire pit guide. It's a simple fire pit to build, but it looks great. Best of all, it'll only cost you $60!
Repurpose Old Drawers
Wooden drawers from a dresser or nightstand can make a perfect raised planter! Simply attach them to a small A-frame folding ladder base to give your favorite greenery a rustic, unique home straight out of Captain Fantastic. Best of all, you won't be spending a dime!
Check out a tutorial for how to build these unique, affordable planters here!
Hideaway in a Treehouse
Out of all the backyard accessories we can think of, a treehouse is perhaps the most classic. From Codename Kids Next Door to Swiss Family Robinson, everyone knows treehouses are just plain awesome, especially if you have kids. Lots of folks think it's too much work to build one, or too expensive, but they're wrong!
You don't have to be Bob the Builder to create an awesome backyard treehouse, we promise, and you don't have to burn a hole in your wallet, either. Head over to Treehouse Supplies for in-depth treehouse building kits, materials, and tips and tricks. All the materials you need can be bought here, too. Some of these build plans go for as low as $49.99 (for a 14' x 12' one tree, two post treehouse), so you definitely won't be breaking the bank, either!
Hang Curtains and Awnings
An outdoor room or pergola well strung with curtains and awnings simply oozes luxury, evoking the feel of an Oriental palace, but this is an incredibly cheap and simple way to accessorize your space. Light curtains provide perfect protection from the sun on hot days, as well as a modicum of privacy, while still allowing you to draw them back when you don't want them. We recommend going with a soft, off-white tone for breathability and relaxed aesthetic, but curtains and awnings of all hues can work well.
String Up Some Lights
There's simply no reason not to use a few string lights in your outdoor space. They're cheap, easy to hang, and can completely revamp the vibe and feel of a space, whether you go with twinkle lights or traditional string lighting sets.
On the other end of the spectrum, rope lights strung along ground walkways and porch bannisters are a great way to both illuminate your space for safety purposes (so no one trips) and keep it hip and cute!
Design Your Own Pergola
At first glance this one, like the treehouse, seems like it might take a fair bit of hard work. It definitely isn't the easiest option on our list, but a beautiful pergola can absolutely revolutionize your outdoor space, and provide a space for you to accessorize with all sorts of decor and greenery.
You can easily construct a pergola even on a tight budget, and the design linked here is adjustable to fit almost any size area. The materials and tools required are quite basic, too. All you need is some lumber and basic hardware, in addition to a circular saw and a drill!
Find out how to build your "Super Frugal Pergola" here!
Hang Up a Hammock
Nothing is more relaxing than a nice nap in a gently swaying hammock, and in our opinion, every backyard could do with a hammock! They're cheap and easy to set up, but they look great, and all you need is two trees or posts!
Check out this awesome hammock tutorial for some ideas!