Staircase Designs For Your Home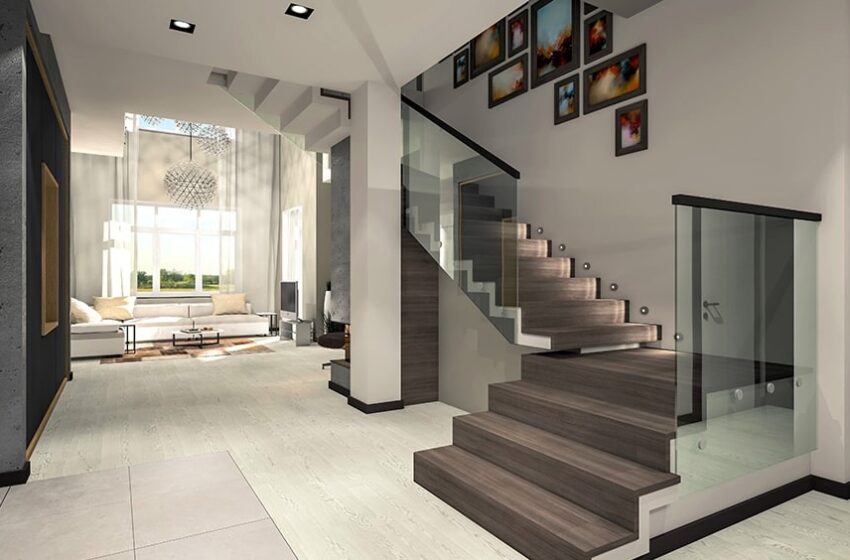 When it comes to the stairs in your living room or dining room, people generally do not pay a lot of attention. It is used only for its functionality. This can affect the overall appeal of your home interiors. Every element in your home should be very carefully designed to make it stunning. Gone are the days when you were forced to choose boring stairs in your living room or dining room. Nowadays, you can easily find lots of amazing options in the market. While some are minimalist and simple, others are quite expansive. Make sure you very carefully choose the option for your home. Even if you choose a stylish design, it might not appear good with the theme of your home. Mentioned below are a few options by renowned interior design service providers that you can consider for your home:
01 of 05 A curved staircase for your home
Modern homes do not have a lot of space. You must very efficiently make use of space so that your house appears organised. The staircase can take up a lot of space in your house. Hence, opting for space-saving options is a great idea. A curved staircase in the corner of your room is perfect for small homes and apartments. You will be able to save a lot of space and can make the interiors appealing. There are innumerous curved staircase designs available in the market. However, it is always better to stick to a simple staircase with sleek railings if you want a space-efficient option. Also, a simple staircase can blend in with almost any home theme. You do not have to worry about the staircase design appearing awkward.
02 of 05 Get a box staircase for your contemporary space
You do not have to look for very stylish staircase designs according to interior design service providers. Even the simplest options like box-like stairs can do the trick. These are one of the most basic types designed to ensure that people do not trip while climbing. Moreover, this staircase style is popular because it is space-efficient. People with small home designs generally prefer this option over others. By installing it in your home, you can save a lot of space and give the interiors a simple yet stunning look. Moreover, railings are needed for this type of stair if you install it beside a wall.
03 of 05 Use wooden stairs for a traditional appeal
Wood is widely used in homes by interior design service providers. There are plenty of benefits to using wood in your home interiors. To begin with, wood is a durable and sturdy material. You do not have to worry about the material getting damaged. Also, it will easily last a few decades. Hence, using a wooden staircase is a great idea. Further, wood has a warm and welcoming appeal. By installing a wooden staircase in your home, you can make the space inviting. Also, the texture and colour of wood will make interiors appear very elegant and luxurious. Depending on your preferences, you can choose any material and shade for your staircase. This design is perfect for people with traditional home designs. However, wood might not be the best option for everyone. It is one of the most expensive materials available in the market. If you have a small budget, you should look for other options.
04 of 05 Opt for floating staircases
Not everyone wants bulky options. Some people prefer minimalist and stylish options. If you too want an airy, open, and sleek option, choose the floating staircase design. This stunning staircase design can completely change the appearance of your home interiors. People with open home designs mainly prefer this option as it does not obstruct the view and opens up the space. However, you can choose one for your home as well if you want a stylish option that makes the interiors appear more spacious. Although many people install one without railings, you can consider installing them for safety purposes. This does not mean the stunning appearance of your floating stairs will be affected. You can install suspended railings on one side of the stairs and further enhance the appeal.
05 of 05 Staircase with glass railings
Glass is commonly used in modern homes because they offer an unobstructed view and make interiors appear brighter and more spacious. You can consider incorporating glass into your staircase design as well for enhancing its beauty. Opting for glass railings instead of regular railings is a brilliant idea if you want your staircase to appear more stylish. Besides opening up the space, the glass railings will give your staircase a neat and sophisticated look. You can mostly find this option in modern homes. Just be careful when it comes to maintenance. Dirt will be very easily visible on your glass railings. You will have to clean the railings time and again to keep them squeaky clean.